Programs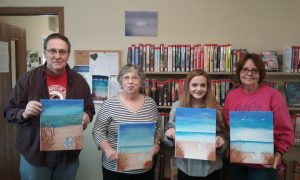 Monday Muse

Mondays 2-3 p.m.
Where will the muse lead? Painting? Crocheting? Knitting? Paper Crafting? Embroidery? Concrete? Sketching? Coloring? Only the muse knows but you can find out by joining us from 2-3p.m. on Mondays. All are welcome!
3rd Monday of the month 6pm-7pm
All are welcome!  Selections change each month.  See a staff member to reserve a copy of our latest book.  Title suggestions are welcome and encouraged.
Story Time
Preschool Story Time
Mondays 11:00 a.m.- 12:00 p.m.
Books, songs, snacks and simple crafts or activities for kids.  Join Mrs. Julie and Mrs. Rhonda to explore the joys of reading!
Fitness Fun with Chrissy
Thursdays 5:30-6:30 p.m. at the Crab Orchard United Methodist Church. Join us as we try a variety of exercise programs. No equipment necessary.
Upcoming Special Programs
Open House
National Library Week Open House celebrating 35 years of library service in Crab Orchard. Come to the open house on April 12, 2018 from 2-4 p.m. for refreshments, a chance to win a door prize and to see what's new at the library.
Summer Reading Program
The theme for this year's Summer Reading Program is Reading Takes You Everywhere. We are looking forward to having programs by Crab Orchard Wildlife Refuge, Animal Tales and the magician, Chris Egelston and more. 
Herb & Container Gardening  May 24, 2018 12:30-2:00p.m.

Do you like to garden but have limited space? Would you like to know more about growing herbs? Join us for a program on May 24, 2018 from 12:30- 2:00p.m. for a presentation by the Crab Orchard Home Extension Unit on herb and container gardening.
Bigfoot in Southern Illinois July 27, 2018 6:00-8:00p.m.

Have you seen a cryptid or Bigfoot? Join Zach D. Starrick, founder of Southern Illinois Monster Hunters and Cryptid Crime Scene Investigators to share your experiences and hear about sightings in Southern Illinois on July 27, 2018 from 6:00 to 8:00 p.m.